A long-standing critic of construction industry payment practices is trialling a new methodology on a live project in Stirling which he claims could eradicate many of the issues which have blighted the sector for decades.
Ken Lewandowski (pictured left), who co-authored a review of public sector procurement in construction for the Scottish Government back in 2013, told Project Scotland that small businesses, in particular, are often at the mercy of 'unscrupulous' contractors who either don't pay subcontractors on time or in full.
Several years ago, Ken wrote a paper called 'Make construction shine again', in which he advocated for a new approach to contracts whereby the client, rather than the main contractor, would be in control of monthly payments. Under Ken's method, the main contractor must submit to the client each month a collation of all the subcontractors' invoices, plus their own costs as agreed with the client. Payment is made directly by the client to each subcontracting party. This, he explained, ensures everyone is paid promptly and in full for the work they've carried out, means there is no need to ever take retention money as the work is being certified at each stage of the build, and incentivises good quality.
The solution is being trialled on a major refurbishment and fit-out project in Stirling on a building which will become the new UK headquarters for medical device specialist Emblation. Ken is non-executive chairman of Emblation, whose co-founder and CEO Gary Beale approached Alloa-based Neil Porteous Building Contractors about revamping a site it has taken over in Castle Business Park as the firm embarks on a period of rapid expansion.
Ken told Project Scotland, "The biggest issue in construction is payment for subcontractors and SMEs. You can track it back to the 1990s with the Latham and Egan Reports. Each of these reports highlight exactly the same problems. We highlight exactly the same problems today and nobody seems to be doing anything about it. Over the years I've probably spoken to four or five different business ministers and explained the problem. Nobody has done anything about it.
"The biggest problem resulting in companies going bust is cash flow. There's got to be another way of doing it. He who holds the cash holds the power. The main contractors at times don't pay in full, don't pay on time, and it kills small businesses.
"Gary and I were talking about getting a new building and doing something. Gary knows how passionate I am about trying to solve this problem. We needed to find a contractor who would work with us, and everybody will come out of this on the right side."
Project Bank Accounts have been used with some success in Scotland, though Ken said people are sometimes reluctant to use them because they can be expensive to set up.
He admitted that he spoke to a couple of main contractors who revealed they wouldn't have carried out the Emblation project in Stirling because of the payment methodology being proposed.
"Neil (Porteous) was prepared to come in and be radical in the way that we managed this," Ken said. "As the main contractor, Neil's company also has all the joinery work and did all the strip out. His company gets paid for the work they do, and he gets paid an agreed project management fee on a monthly basis. All the subcontractors that come in here are chosen by Neil. All the materials are ordered by Neil, delivered to site, Neil checks them – the quality, the quantity, makes sure everything's here. The invoice comes from the supplier of the materials with our name on it – Emblation – so it's invoiced to us. As soon as Neil has checked it and signs off the invoice, he passes the invoice back to us and we pay the supplier direct. We don't pay Neil to play with their money.
"Many, many clients don't actually understand that the money they're paying to a main contractor to pay the applications that are coming in isn't all being passed down to the relevant subcontractors.
"We would have to, through our own internal procurement departments, have to pay the contractor anyway so all we're doing is paying people direct. There are no applications here. It's an invoice every month."
Ken said some main contractors don't like the idea because the power and use of other people's money would be taken away from them. He reckons 'billions' of pounds of retention monies in the UK have gone unreturned over the years, often sitting in the bank accounts of major contractors.
Under an application system, he explained that a subcontractor might apply for £10,000 one month and the contractor could decide to pay them just half of that. Under Ken's system, because subcontractors know they're going to be paid on time, and not subjected to the 'abhorrent' practice of MCDs (Main Contractor's Discount), he said this raises the likelihood of them doing a good job.
"It's an incentive," Ken stated. "Because of that, we don't have to take retentions. Retentions are taken to pay for bad workmanship at the end, to correct poor quality. We don't have to do that because this is checked every single week, every single month.
"What you find with main contractors is the applications go in and their QS is supposed to check all them off. You've got quantity surveyors that never come out their office. They don't go on-site and check everything. They sit in their office and say: 'He's asking for £10,000, pay him £6,000'. Our method is a hands-on process but It's a process everybody should be doing anyway."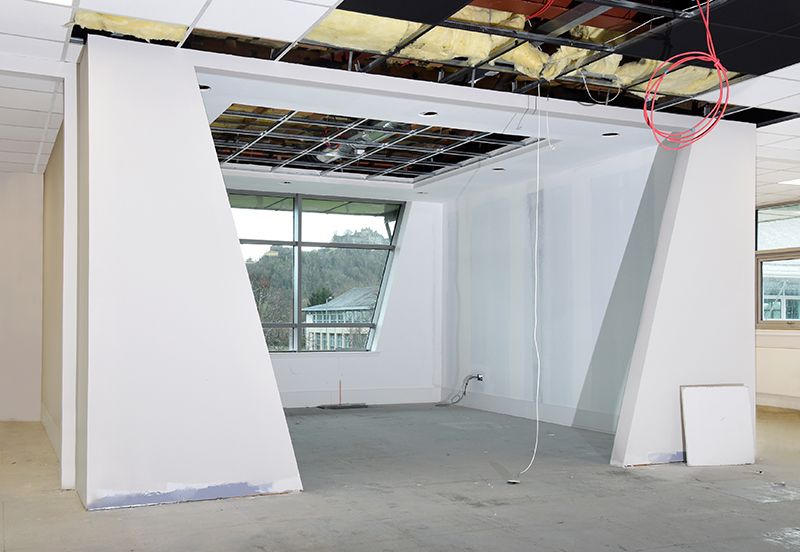 Len Bunton, an experienced construction consultant and chair of the CICV pipeline and commercial sub-group, and professor Rudi Klein, former CEO of the Specialist Engineering Contractors' Group, are among those who have been supportive of Ken's payment solution.
Len told Project Scotland it is a 'very innovative model' for others to follow. "It's a win-win all round,' Len added. "The client gets his building on time, on budget and to a good quality. The contractors get on with the job, not worrying about payment periods and amounts. This is an excellent example of an intelligent client harnessing everyone's skills to achieve delivery." Professor Rudi Klein believes the Scottish Government should revise its procurement legislation and require that direct payments are made by contracting authorities to subcontractors.
Ken admits though that some other industry stakeholders read his paper and thought it wouldn't work in practice. He said that's because they haven't thought how to really make it work, describing the process as inherently 'simple'.
"The challenges are getting main contractors on board because they don't lose anything out of this," he added. "This is radical for the construction industry. This is going to be somewhere between a £1-1.2 million project but we're proving it could work. If it works on a £1 million contract, it will work on a £10 million contract."
Ken said there remains scope to deal with issues that crop up during projects that weren't accounted for at tender stage. He cited a live example from the Stirling project, as it was discovered unexpectedly that six new boilers would be required. Neil (the contractor) sat down with Gary Beale (Emblation CEO), explained exactly what was going on, and was given the go-ahead. The boilers were delivered within 48 hours and the invoice was sent to Emblation.
"As the client, we're sensible enough to realise that things have to be done," Ken said. "It works so much smoother. Neil has a great reputation now with the local supply base because they know where he's working, what's happening, and how they're going to get paid.
"Because of the relationships Neil's building with the subcontractors, if there is an issue at the end, these guys will come back and fix it. They know they've worked with somebody who's treated them with respect."
Neil Porteous said the work is going well, with practical completion on course for mid-June having started on-site in January. Once the payment process had been fully explained to him, he had no reservations about embarking on the project.
"The value of the job remains the same," he said. "We're a relatively young building company and want to be innovative. We're happy to try new things and see if they work. You need a client that works with you and someone fully on board with it."
Gary Beale reaffirmed that 'full visibility and transparency' are key to making this process work. "We know what Neil's paying his subcontractors and we know how much he's putting in as a margin, which he's still getting," Gary explained. "The important thing is we know that the money is going to the subcontractor, that they're being paid and are happy. Neil's happy too because he's not losing out."
As for the project itself, extensive landscaping work has been carried out externally, while sustainability measures are very much to the fore. Electric car chargers, lights with auto sensors, solar panels, and LED lighting throughout are all included in the plans. Emblation is also trying to get a grant for the installation of an air source heat pump.
Gary is hopeful that the building will be operational by the start of August, with the switch from Emblation's current premises in Alloa marking a sea change for the company, which utilises microwave technology to revolutionise the treatment of diseases including cancer. The ongoing construction work will result in a facility where production can take place, consumables will be brought in-house, with room also for next generation products and storage.
"The company's been going for 14-and-a-half years," Gary explained. We've grown from couple of guys to having Emblation UK, US, Canada and Germany. We have about 70 employees and have been going through a recruitment drive for the last 12-18 months.
"We needed the space. We're in an industry where there has to be a lot of communication. We wanted to have everybody together and also wanted it to flow better. In terms of culture, this will allow everybody to come together.
"There are lots of congregational areas. We've got a gym, an auditorium, a kitchen, a games room. It's the modern culture direction of our company, and this facility gives us the ability to do this."
Source: https://projectscot.com/2023/04/stirling-construction-project-trials-innovative-pay-model-designed-to-end-cash-flow-woes/